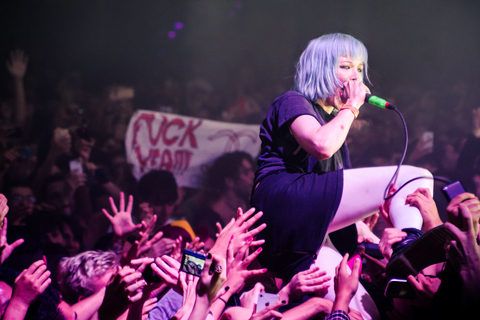 Walking into the Roseland to see Crystal Castles for the second time, I thought I knew what kind of show to expect. My expectations proved to be completely wrong. The show proved to one of the most enjoyable and exhilarating concerts I had ever attended and would certainly one that I would never forget.
Crystal Castles' opening band, Kontravoid, consisting of only one member, turned out to be of the best supporting acts I've seen. I had listened to the band's album before the show and really enjoyed what I heard. Kontravoid's sound echoed the likes of Joy Division and early New Order, two bands which I have a tremendous respect for. The band managed to deliver a fantastic and earth pounding set, coupled with a strobe like light show.
After Kontravoid's set I walked back towards the merch table and noticed a couple familiar faces, keyboardist, Ethan Kath and drummer, Christopher Chartrand; two thirds of Crystal Castles hanging towards the back. I walked over to Ethan and he immediately complimented the Stooges shirt I was wearing. I shook his hand and told him how much I enjoyed the opening act. He told me that Kontravoid served as the band's first drummer early in their career.
I continued to talk to Ethan about about the Stooges and his experience playing with them last summer in Australia. I told him I had a couple of mix tapes down at coat check that I would really like to give him after the show. He said that I could probably give it to the merch table if I wanted him to get it. I shook his hand again and told him I was really looking towards the show and left him to prepare for what was to come.
After about twenty suspenseful minutes waiting for Crystal Castles the lights went dark. Ethan and Chris took to the stage first, followed shortly by singer Alice Glass as the band launched into "Plague", the first single off their soon to be released third album. The band then followed with "Wrath Of God", another track off the new album. The Roseland seemed to shake with the sonic assault brought by Crystal Castles, largely aided by Chris' seismic drumming.
Crystal Castles continued through a blistering set of familiar songs from the first two albums, including my personal favorite, "Doe Deer". Alice continued to jumping into the crowd while singing as well as crowd surfing, standing completely supported by the hands of the crowd, reminiscent of Iggy Pop's performance with the Stooges at the 1970 Cincinnati Pop Festival were Iggy stood supported by of the hands of the audience as he pointed forward. Alice did lose her balance a couple times while held by the audience, only to be caught again.
The last song Crystal Castles performed was a haunting cover of Platinum Blonde's "Not In Love", before leaving the stage to a whirl of synths and feedback. After about five minutes of cheering for an encore, the band returned with, "Yes No", an unreleased song used to close many of their sets. After the band left the stage and the lights went on I looked for my group of friends I had arrived with. After we found each other amongst the sweaty mass of bodies we headed downstairs to coat check and picked up our jackets as well as the mix tapes and copy of Crystal Castles' very first vinyl EP "Alice Practice" from 2006 I had brought in hope of getting it signed by the band.
After exiting the Roseland I told my group of friends that we should head over the back of the venue were the band's tour bus was parked to see if the band was outside. Sure enough a small crowd had formed around their bus. Upon closer expectation I could see Ethan and Chris, the two members of Crystal Castles I had met before, signing autographs and greeting fans. I walked over and proceeded to chat with them. I handed Ethan the mix tapes I had promised and thanked him for the show.
I then handed Ethan my copy of "Alice Practice" and asked if he and Chris would sign it and both happily agreed. I asked Ethan where Alice was and he said she would be out soon. I continued my conversation with Ethan about the Stooges we had started before the show. We again talked about his experience playing with the Stooges as well as seeing New Order play live on their recent reunion tour.
About thirty minutes later Alice finally walked outside and greeted the standing crowd. I handed her my copy "Alice Practice" asking if she would sign it. She was immediately surprised to see such a copy and asked if this was real, saying, "I haven't seen one of these in such a long time". As Alice signed the cover it began to rain and the she apologized for smearing the signature, trying to fix it. As she handed back the signed cover and I thanked her and said I noticed she had fell a couple times while crowd surfing and asked if she was okay, she laughed and said she was alright.
I continued to talk to Ethan while the band waited for their cab, talking about the band's early stages and how all the early songs were written and performed on bass instead of synths. After about twenty minutes a cab drove up to take the band where they were spending the night. I again thanked Ethan for the show and told him to enjoy the CDs. After the cab left I walked back to my bike and rode home through the rain.
Record label
No Label Provided