XX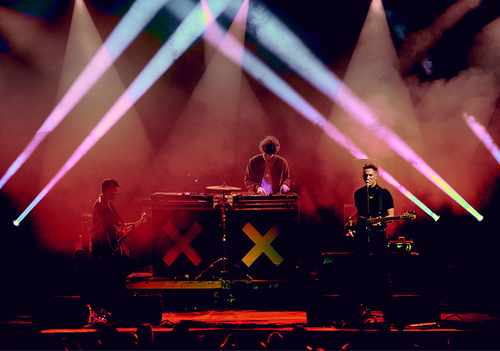 As the xx took the stage everyone in the crowd, including myself expected the band to open with "Intro", the first track off their self-titled album, with that ever-familiar melody provided by guitarist and vocalist, Romy Madley Croft. Instead they opened with the first single and track off new album, "Angels". Accompanying the song was an amazing light/laser show like nothing I had ever seen before.
Soon after "Angels" the band followed with a somewhat stripped down and more personal version of "Crystalised". This move paid off well in giving the audience a new and more personal take on what could be an overplayed song. Further into the xx's set I begin to realize that the band's second album, "Coexist" served as a perfect compliment to the first one. Each song whether they are from the first or the second album seemed to flow and compliment each other, like that was the band's intention all along. This is a feat that I feel very few bands fail to achieve, to create a seamless musical performance.
The band continued into their set with memorable versions of songs from the first and second albums, coupled with a fantastic light show as well as art from the second album projected on the wall behind. Bassist, Oliver Sim acts as a perfect compliment to Romy, each playing off each other's parts. But it is the bands producer and percussionist, Jamie Smith who really carries the band. His pounding drum beats and luring synths are something that cannot be over stated.
One of the more memorable songs of the show was "VCR", performed towards the end of the set in with the whole crowd sand in unison with Romy. The band then left the stage with the large projection of first album on the wall behind. After several minutes of cheering, the xx return for an encore, starting with "Intro", a perfect end to a great show.
The very last song of the show, "Stars", happens to also be the last song off the first album. This was accompanied with a beautiful array of stars projected onto the crowd. After the band left the stage the audience began to retreat and I walked towards the stage. I asked one the stagehands taking down the gear if I could have one of Romy's guitar picks. He grabs one and hands it to me, which just happens to be the exact same kind of pick I use.
While listening to both albums after the show, each does seem to seem to convey distinct emotions, the first of isolation and the second of togetherness, as well as night and day. The album artwork also supports this. The songs from the second album are much more balance and convey a sense of completeness, while the first works better as just stand alone singles.
Record label
No Label Provided